PROFESSIONAL AND EFFICIENT SERVICE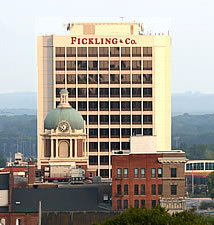 Fickling Management Services, LLC. is a full-service real estate management company headquartered in Macon, Georgia. Our portfolio predominantly consists of commercial and multifamily properties. We provide third-party property management and leasing services to individual and institutional owners, as well as, corporate entity of local and multi-market commercial properties. We currently manage and lease over 1.75 million square feet of retail space, up to 9,000 apartment units, and several million square feet of office and industrial space. In providing management to these properties, we serve over 300 separate owners in the region.
We are currently accepting new clients in Alabama, Florida, Georgia, Louisiana, Mississippi, North Carolina, South Carolina, Tennessee, and Virginia. If you are seeking a full-service property management firm dedicated to your success, then we want to talk with you.
Due Diligence Services
Fickling Management Services helps multifamily clients evaluate transactions as a ensure they fully understand the opportunities and risks involved in the deal. Our goal is to help clients avoid expensive error which could negatively affect their bottom line.
Fickling Management Services has the resources in place to strategically help clients implement solutions which will seamlessly assimilate the asset into the client's portfolio.
Full-Service Accounting
The full-service accounting department at Fickling Management Services offers clients a one-stop-shop solution. Our team specializes in Bank Reconciliation, Monthly and Yearly Operating Statements, Vendor Payments, Property Tax Payments, Insurance Payments, Debt Service Payments, and more.
Our goal is to remain transparent and often saving clients significant costs.
IT/Marketing
Fickling Management Services partners with the in-house technical specialists with Fickling & Company to achieve strategic marketing and tech goals while minimizing a client's miscellaneous costs.
Our specialists remain at the forefront of development platforms and continue to quickly adapt and capitalize on opportunities for brand awareness and increased conversions leading to higher client revenue.
Onsite Community Management
Fickling Management Services clients never have to worry about staffing concerns. Our team quickly recruits, screens, and trains quality candidates to manage the day-to-day on-site operations.
Fickling Management Services provide continuous training and support for community staff from both our Director of Operations and the Director of Training & Compliance.