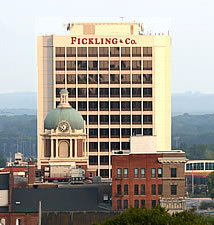 IREM® Accredited (Institute of Real Estate Management)
With a goal of maximizing the value of your real estate property while minimizing your investment of time, Fickling Management Services Commercial Property Management Team, located in Macon, GA, delivers property management expertise and leasing services to individual owners, institutional owners, and corporate users of local and multi-market commercial properties. Simply put, we facilitate confident decisions and optimal results based upon your strategic objectives.
We provide:
Straightforward, state-of-the-art reporting for efficient, timely evaluation
A property management plan that integrates your immediate and long-term goals
Strategic applications that control costs, build asset value through marketing, and improve efficiency with consistency in procedures & results
Preventive maintenance and construction management to strengthen property appeal and investment value
An overall management package that creates a marketplace advantage
Managing and leasing more than 150 commercial properties for individuals, corporations and institutions, our client-centered professionals complete rigorous training to join our team and eagerly continue to learn and remain informed.

One of the few distinguished real estate firms to be accredited by the Institute of Real Estate Management of the National Association of Realtors, we present peace of mind to our clients while they prosper from our extensive resources.
Fickling Management Services can help you find the real estate property that is right for you and your business needs. Whether you are looking for an office space, building a retail site in Macon, Warner Robins, or Central Georgia, our professional staff can assist you every step of the way:
Search Sales & Lease Commercial Properties
We invite you to contact us to learn how our team will work for you.